The Cultural Broadcasting Archive is a civil society media and communication platform. We operate an independent technical infrastructure beyond commercial interests. In this way, we promote freedom of expression, media diversity and digital communication. This is our contribution for democratizing the digital media landscape.
Podcast provider
CBA is Austria's largest podcast provider with completely free access. There are over 140,000 audio contributions in around 50 languages, covering a wide range of topics that are available to listen to and download: ethnic minority podcasts, podcasts about politics, media, music, literature, science, culture or philosophy. The platform helps special interest programs reach a wider audience and enables communication between producers and users.
Contemporary document
CBA is an archive of the social, political and cultural events within the individual regions of Austria and Germany. It has developed into an important contemporary document with a strong local reference since it was founded in 2000. In addition to private use, the archive is particularly open for educational work and research purposes. The platform is therefore recommended as a research source in textbooks, for example (e.g. "Durchblick 3" for geography and economics, Westermann Vienna).
Exchange platform
The CBA is an exchange platform for contributions from community radios in Europe. We enable the mutual rebroadcast of radio programs outside the stations' local reach. More than 40,000 broadcast rebroadcasts from stations all over Europe have been documented since 2004 alone.
Our principles & goals
We are non-profit, non-advertising, both politically as well as technically independent.
Our goals are to promote political participation, media diversity and open access to information and knowledge.
We do not sell personal data. It is important to us that producers remain the owners of their content and, at the same time, we want to ensure that it is as freely available and reuseable by the general public. Therefore, we rely on the use of free licenses such as Creative Commons.
We advocate algorithms that primarily follow ethical guidelines. We want opinion-forming to be possible under democratic conditions, without the public discourse being distorted by opaque algorithms and interests.
We only use open source software and are therefore technically independent of commercial providers.
For our work we received an honorary mention at the Prix Ars Electronica 2010 in the category "Digital Communities" and a nomination for the "Austrian Prize for Free Knowledge 2020" by Wikimedia Austria.
We provide a non-profit digital infrastructure that stands for open access, privacy and data sovereignty
We bring together a variety of engaged, civil society communities to share content on the platform
We secure all content in-house and out-house on a daily basis, ensuring long-term availability
We provide a range of interfaces and tools through which content can be widely distributed:
Podcasting
Via RSS feeds, podcast directories can list CBA content. Individuals can use podcasting apps and RSS aggregators to subscribe to podcasts and automatically stay up to date.
Websites & Mobile Apps
External websites and mobile applications automatically integrate content from the CBA via our interfaces. We provide customized APIs for this purpose.
Player
For listening, the CBA Player can be integrated responsively into external websites either as a stand-alone on demand service or via embed code.
Sharing & Social Media
CBA content is easy to share on social media.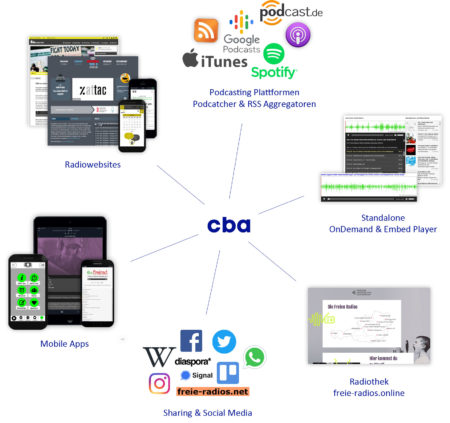 Activities
We regularly contribute to the public debate around the topics of freedom of expression, free access to information, digital self-defense, copyright and digital archives. To this end, we organize discussion events, initiate innovative technical projects, collaborate on publications, or develop positions on draft laws and write statements on them.
Publications
Building a European Digital Public Space – Strategies for taking back control from Big Tech companies
Published by Alexander Baratsits via irights.info, November 2021
Conferences
Building a European Cultural Backbone – Labs & Conference
Hackathon and conference on how to build a European civil society media network.
May 2022, Linz Austria
https://cba.media/labs-conference
#mediana17 & #mediana18 – public open spaces
Conferences on media, culture and democracy
https://www.mediana.at
Archivia 12 & Archivia 14
International conferences around the topics of digital archives, democracy and (copyright) law
https://www.archivia.at
Technical developments
On the technical side, we develop software open source.
Democratic Personalisation and Recommender for Employees, 2022 – 2024
Development of a personalised and non-biased content recommender algorithm.
Funded by AK Digifonds of Arbeiterkammer Wien

REPCO – Replication & Collector, 2021 – 2022
Developing a technical concept, datamodel and prototype for sustainable metadata exchange between audio-visual media platforms
Project realisation by arso.xyz and cba.
Funded by the European Cultural Foundation ECF and the City of Linz
   
fAIr by design, 2020 – 2023
Involved as project partner in the development of techniques and models for fair algorithms.
A project of TU Wien – Vienna University of Technology.
Funded by the Austrian Research Promotion Agency FFG

Open Audio Search, 2020 – 2021
Speech-to-Text Toolkit for Free Knowledge Initiatives.
Alexander Baratsits, Ewald Enzinger, Franz Heinzmann, Sid Moreira-da-Silva, Thomas Tremel.
Funded by netidee of IPA (Internet Privatstiftung Austria)

UVisualize!, 2014 – 2016
A storytelling and visualization tool created as part of the EU project "Creative Approaches to Living Cultural Archives", available as a WordPress plugin.
Ingo Leindecker & Ralf Traunsteiner.
Funded by EU Culture, Bundeskanzleramt, Land OÖ, Stadt Linz

Dekanter, 2012 – 2013
Online audio cut editor.
Ingo Leindecker & Benedikt Reiter.
CBA YAAFE, 2011
Methods for distinguishing music from speech parts in audio files.
Ewald Wieser, FH St. Pölten (Download PDF, Project site)
Funded by the Austrian Research Promotion Agency FFG

CBA Processing API, 2007
An API for Processing/Java tailored specifically for artistic data visualization.
In collaboration with Office for Media Arts International, Mario Kishalmi and Ingo Leindecker.
Funded by the Federal Ministry for Education, Arts and Culture.
CBA Timeline, 2006
Interactive 3D application for visualizing the dataset.
Mario Kishalmi, Ingo Leindecker and Doris Prlic.
Supported by the Media Art Fund Austria, KUPF Innovationstopf and the art festival Radiorevolten, Halle/Saale.
Our history
Plattform provider
Cultural Broadcasting Archive
Verein zur Förderung der digitalen Kommunikation
ZVR 1568700466
c/o Altebergenstraße 2D/1/1
A-1140 Wien
UID: ATU76208658
Contact
Office & Project Management: Ingo Leindecker
office@cba.media
Management board

Alexander Baratsits
Ingo Leindecker
Team
Alexander Baratsits
Sustainability Management & Legal Matters

Lisa Buttinger
Public Relations, Communication & User Support

Thomas Diesenreiter
IT & Web Development

Kanishk Raj Jaiswal
Data Science & Web Development

Ingo Leindecker
Management, User Support & Web Development

Elisabeth Luger
Financial Controlling & Project Administration

Ngoc Tram Luu
Data Science & Web Development

Aslihan Özüyilmaz
UI/UX Design
Advisory Board

Vorsitz: Claudia Garád (Wikimedia Austria)
Thomas Diesenreiter (Kulturplattform Oberösterreich)
Sabine Fratzke (Bundesverband Freier Radios Deutschland)
Konrad Mitschka (ORF)
Founding members

Alexander Baratsits
Thomas Diesenreiter
Freier Rundfunk Oberösterreich GmbH
Ingo Leindecker
CBA is member of the association of Austrian media archives Medienarchive Austria.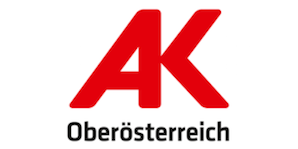 2020 kindly supported by AK Zukunftsfonds of Arbeiterkammer Oberösterreich
2022 – 2024 kindly supported by AK Digifonds of Arbeiterkammer Wien
Support
For technical support and assistance to users, please contact:
office@cba.media
Download our logo as….